Can you believe it's 2015 already? My husband told me that I either need to keep up with this blog, or delete it. HAHA! So here I am.

Sometimes I wish that time could stand still. And sometimes I wish it would fly by. When it comes to my children, I wish it would slow down so that I could have more time with them. When it comes to deputation, I wish it would fly by so that we can begin our ministry in Argentina. The truth of the matter is God's timing is perfect. Deputation is a process, to which I believe is a necessary process, but it is a process.

For those of you reading who don't know what deputation is, here's the gist: it's the process of traveling around the United States, visiting Baptist churches, asking them to support us on a monthly basis. The hardest part? Asking for money. Someone once told us that God already has the churches lined out who will support us. Our responsibility is to ask God to show them to us, and then make the call, asking them to allow us to share our ministry with them. This takes time! And time takes patience. But God knows us, and knows us well. He has not ever asked us to do something that he will not equip us to do. So we remain faithful to him, and he remains faithful to us.

My purpose in telling you this is not to make you feel sorry for us...and I hope this isn't coming across as complaining either... but for you see the greater plan and purpose of God. God has a plan for each one of us, but it is up to us to decide if we are going to follow that plan, or if we are going to be like Jonah, and run the other direction. Aaron and I have decided that we are going to follow God's plan, no matter what it takes, no matter how hard it is, no matter how trying and uncertain it is...NO MATTER WHAT! So my question to you is this: what is God's purpose for you? Have you even asked God what he wants of you? If so, are you doing what he asked you to do?

God gave me a verse, and I want to share it with you. It is Deuteronomy 31:7-8. It says, "And Moses called unto Joshua, and said unto him in the sight of all Israel, Be strong and of a good courage: for thou must go with this people unto the land which the LORD hath sworn unto their fathers to give them; and thou shalt cause them to inherit it. And the Lord, he it is that doth go before thee; he will be with thee, he will not fail thee, neither forsake thee: fear not, neither be dismayed."

God has given us the city of Mendoza...we know without a doubt that God wants us there...and he is the one who goes before us. We are not fearful or afraid because we trust him and his word. You don't have to be afraid either. Step out in faith and do what He has asked you to do.



Powered by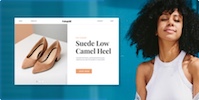 Create your own unique website with customizable templates.